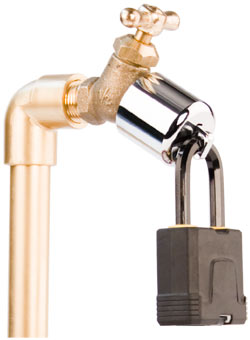 Hose Bibb Lock
With water prices soaring, locking access to your outside water supply is now an important part of security.
Here's how it works: The cover, padlock eye, and padlock spin freelyaround the fitting. The fitting cannot be unscrewed and will not leak when the Hose Bibb is locked.
Uses Include:
• Stop water theft, waste and misuses.
• Stop leaky hose bibb.
• Outside or inside hose connections.
Water heater drain valve.
• Gray water irrigation safety.
• Home owner, boat, RV.
• Rental, apartment, Condo.
• Golf Course, Park, Marina.
• Municipal Buildings, Housing.