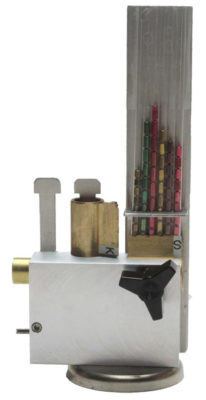 KWIK KEE
Quick Rekey Alike Device
Most businesses or residences have under 10 cylinder changes. When keying them, you may have made piles of pins on your work area, used a loading tray or just picked from your pin kit…then proceeded to load each chamber in the same order, over and over again. With KWIK KEE you can load once and rekey your cylinders in a flash.
Come with bibles for:
Kwikset spaceing

Schlage spaceing
Special order just about any other manufacturers spacing bible separately.
This device will hold up to 15 Schlage #9 pins.
Spring loaded follower allows for one handed operation.
Magnetically holds itself onto your work area.
Change out the follower when rekeying specialized cylinders.
See video coverage of the KWIK KEE at the